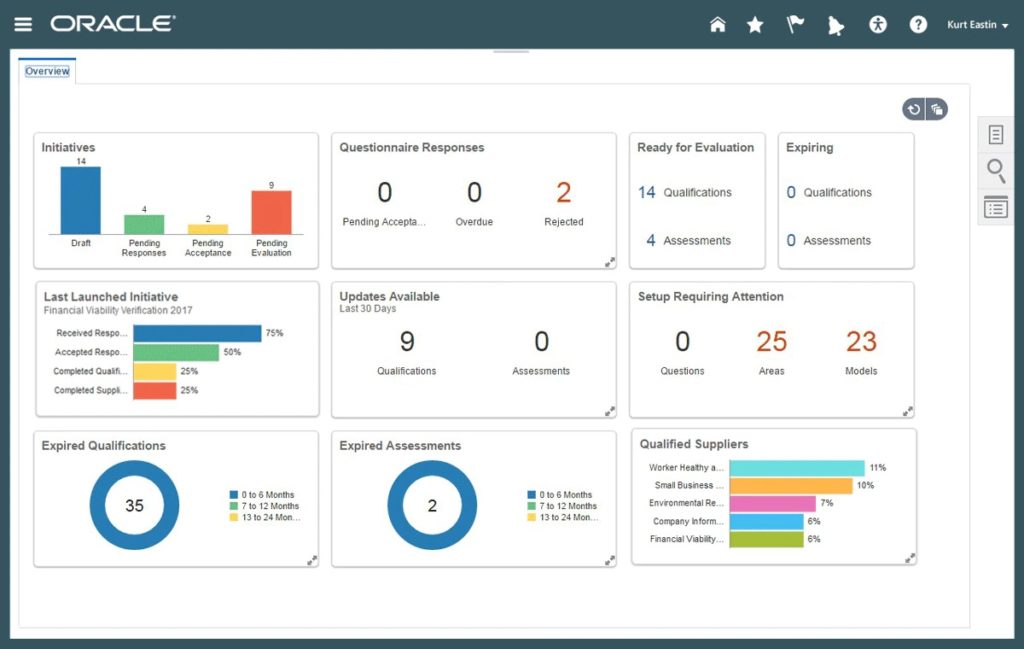 A key component of Oracle Procurement Cloud, Oracle Purchasing Cloud enables you to streamline and automate the procure-to-pay process while enforcing negotiated pricing and terms and ensuring policy compliance.

Procurement Cloud
Procurement Cloud software helps you analyze, efficiently manage document revisions with visual notifications and full change history.
Automate Your Procure-to-Pay Process
Oracle Purchasing Cloud allows you to automate purchasing transactions, and provides your buying professionals insight into exceptions, status, and actions required. You can streamline routine tasks, such as creating purchase orders from approved requisitions without intervention, increasing productivity while enforcing compliance at every step. You can utilize electronic communications with your suppliers to improve the timeliness and accuracy of purchase orders and changes. This allows you to spend more time discovering and exploiting savings opportunities and delivering value to your business.
Enforce Business Policies
You can ensure compliance with negotiated terms and approval policies. Purchase orders automatically enforce pricing and terms from supplier agreements. You can also leverage purchase order and agreement approval rules to ensure compliance and simplify exception management. The drive to deliver savings with fewer resources and improve operating efficiencies has led to increasingly complex global operating models. Oracle Purchasing Cloud enables you to balance the competing objectives of scale and specialization while at the same time consistently enforcing policy compliance.
Oracle Purchasing Cloud provides change management capabilities to help you adapt to dynamic business needs. You can allow changes to be initiated from requesters and suppliers reducing off-line communication and the chance of miscommunication. You can leverage tolerances and workflow approvals to ensure proper review of changes. You can also differentiate between internal administrative changes versus revisions that should be communicated to a supplier to help eliminate supplier confusion or duplicate orders. You can also review a comprehensive document history with full visibility of what changes were made, when changes occurred, and who made the changes.
Oracle Procurement Cloud Applications
Oracle Procurement Cloud helps organizations streamline, standardize and automate their source-to-settle process through modern technologies that help increases influence over spend and procurement practices. It increases user engagement, increases collaboration and simplifies, standardizes and automates routine transactions resulting in lower costs and higher margins.