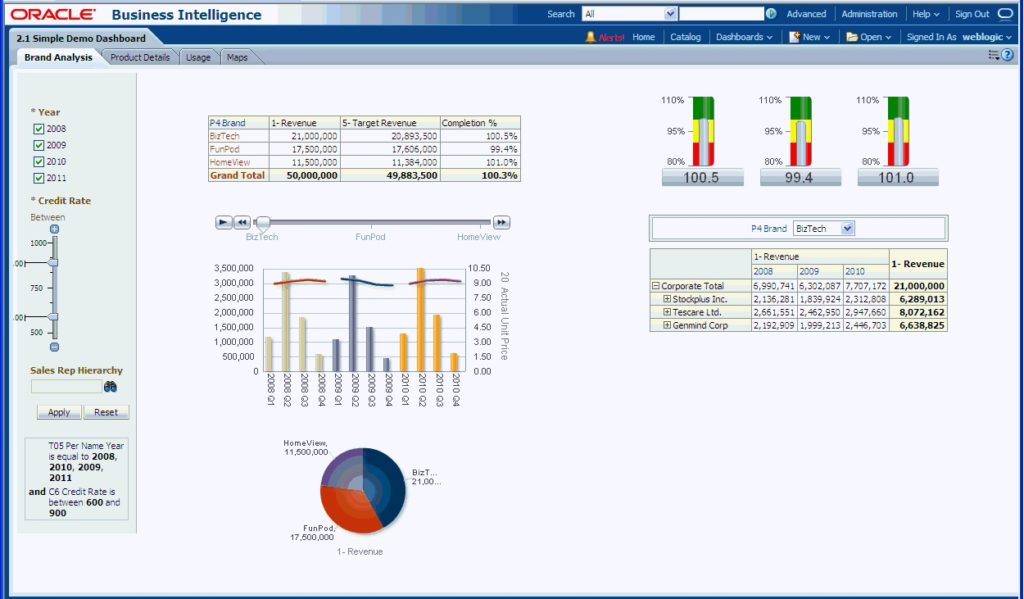 Oracle is committed to serving all your analytics needs, no matter how advanced—or simple. Unlike other products that require you to compromise between governed, centralized analytics, and self-service, Oracle Analytics Cloud resolves this dilemma with a single solution that incorporates machine learning (ML) and artificial intelligence (AI) into every step of the process.

Oracle Analytics Cloud
Oracle Analytics Cloud software helps you Reduces your effort to deploy, manage, and maintain analytics.
Oracle Analytics Cloud combines existing and new services to deliver the industry's most comprehensive analytics in the cloud. This delivers industry-standard capabilities as well as new ways to capitalize on your organization's collective intelligence. It provides everything you need for analytic agility, from fast, fluid self-service discovery to simple-yet-sophisticated data loading and blending, powerful inline data prep, data enrichment, automatic visualizations, data storytelling, instant mobile with full authoring, easy and extensible advanced analytics, and more.
CHANGING THE WAY YOU WORK
Proactive self-learning insights, smart visualization, and analytic storytelling drive to new levels of collaboration and innovation. Oracle Analytics Cloud delivers a strategic platform to capitalize on the collective intelligence of people, processes, machines—all to turn insight into action. Extending analytics with social and mobile metaphors fuels intuitive interactions, including:
Natural Language Processing Search and voice-driven analysis, with visualizations building automatically as you tap or talk, allowing you to understand the data and adjust your direction based on each new insight.
Mobile Analytics Contextual, proactive analytics on your mobile devices, fueled by machine learning in conjunction with usage patterns, including location, preferences, connections with your colleagues, and more.
Sharing and Collaboration Sharing and collaboration capabilities that support the entire analytics process, so you can make public comments, create private discussions, and share insights via third-party apps.
Visual Stories Capture insights and comments to create interactive stories you can share across the organization.

 

Analytics Everywhere Embed insights into the day-to-day experience of others in preferred applications and portals.
THE BEST OPTIONS FOR YOUR BUSINESS
Oracle Analytics Cloud gives you the flexibility to grow and change as your business does. At the same time it puts you in complete control of your analytics environment:
Analyze any data, anywhere—in the cloud, on premise, or a combination of both (hybrid). Leave data on-premises and run your analytics in the cloud.
Balance business freedom and a governed framework to achieve the best blend of self-service agility and operational consistency for your organization—so you can fuel innovation without sacrificing accuracy and peace of mind.




Accommodate changing demand easily—dynamically adding capabilities and capacity to handle peaks and removing them when demand diminishes.