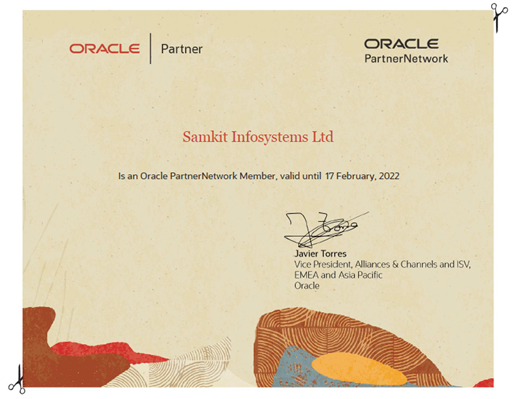 Samkit Oracle Partner Network Certification
Samkit Is A Certified Oracle Partner
Samkit Infosystems has been certified as an Oracle Partner, also known as the OPN (Oracle Partner Network). 
We continue to keep customer-centricity, our focus. This certification ensures 'Excellent Customer Service' to our clients so as to maintain their business on one of the most advanced and secure database – Oracle Database along with Oracle E-Business Suite and Oracle Fusion Middleware Family Products.
Samkit Infosystems Limited is leading global IT Consulting company based in London with a focus of providing Oracle Fusion ERP Implementation services across globe. Our Services include full end to end implementation from requirement gathering to business process designing, Configuration, Data Migration, Training, User Acceptance Testing and Support.