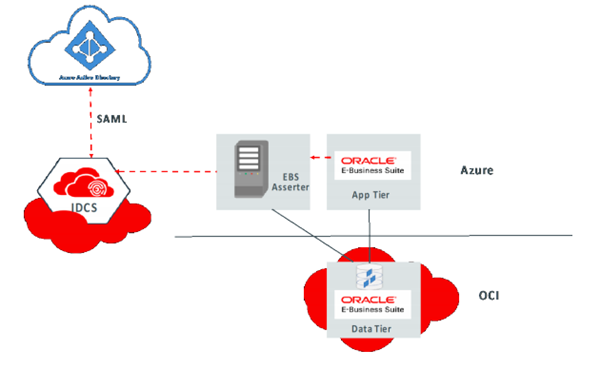 We will help you establish SSO solutions for your on-prem and Cloud ERP applications using federation set-up between your organisation and Oracle IDCS and any other cloud service provider.

FUSION MIDDLEWARE
IDENTITY MANAGEMENT
Open and Standards-based Integration
Oracle Identity Cloud Service provides 100% API coverage of all product capabilities for rich integration with custom applications. It provides compliance to open standards such as SCIM, REST, OAuth and OpenID Connect for easy application integrations. Customers can easily consume these APIs in their applications totake advantage of identity management capabilities.
Oracle Identity Cloud Service provides strong security engine that customers can use to protect all IaaS, SaaS and PaaS applications. It provides security at logical, physical and data layers for custom PaaS and IaaS applications as well as Oracle-hosted IaaS, SaaS and PaaS services. Customers can define their own security control by defining authentication and authorization policies. Via API layers its Integration-ready with Behavioral Risk Analytics, Audit Logging, Identity Context and Policy Violations from third party vendors in application access policies.
Hybrid Identity Management
Oracle Identity Cloud Service seamlessly integrates with on-premises identities in Active Directory to provide Single Sign On between Cloud and On-Premise applications. Through its Identity Bridge component IDCS can synchronize all the identities and groups from Active Directory into its own identity store in the cloud. This will allow organizations to leverage their existing investment in Active Directory and they can extend their services to Oracle Public Cloud and external SaaS applications.Oracle Identity Cloud Service can be integrated with On-Premise governance solution via OIM Connector for identity synchronization and OAM for federation. With this approach customers can take advantage of both on-premise governance solution for access certification, segregation-of-duties and compliance reporting while taking benefits of cloud to integrate with cloud applications. This will give them complete control of when they want to move their identities from on-premise into cloud completely.
Seamless Access to Cloud Applications
Identity Cloud Service provides integration with any service that can be integrated via SAML and Open  ID Connectfor Single Sign On.Administrations will be able to manage users into various applications via single control panel and end users will be able get to applications via single click.
Modernize your applicationsin the Cloud
Customers who want to modernize their applicationsin the cloud can host Identities in the cloud can leverage Identity Cloud Platform as their IDP. These customers can build applications rapidly and secure it with cloud IDM in minutes, not months. With capabilities like self profile management and self password management, customers can keep their help desk costs low while maintaining or improving the quality of their end user experience.These applications can take advantages of authentication, authorization and open standards of IDCS platform.