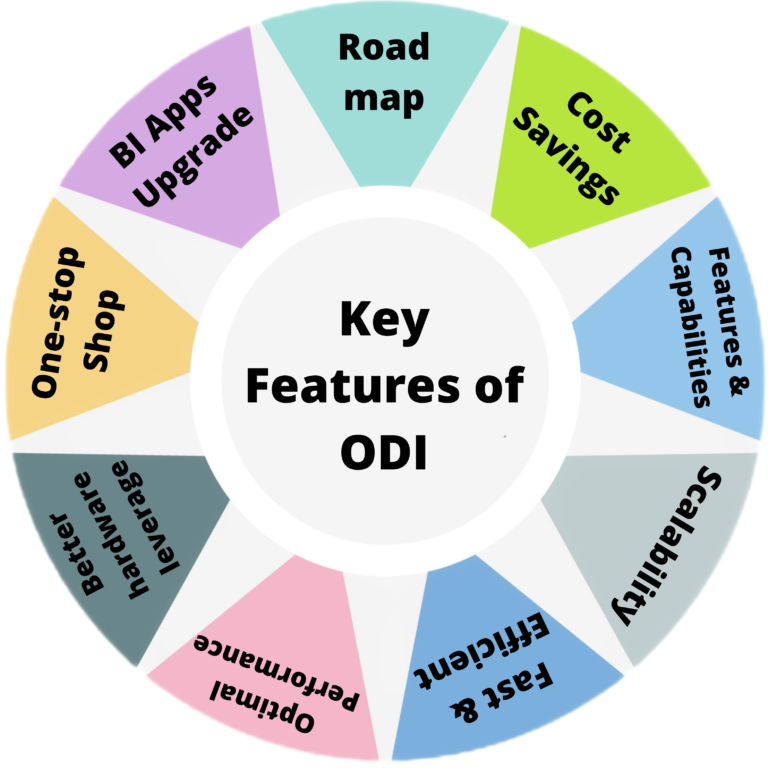 ODI: Migration from Informatica to ODI
ODI: Migration from Informatica to ODI
Oracle has officially stopped supporting the OBIA version with Informatica. Informatica is not owned by Oracle but was owned by the Siebel systems (before the Oracle take over) and OBIA known as Siebel Analytics. OBIA was rebranded as Oracle Business Intelligence Application (OBIA) after the Oracle take over with pre-build ETL provided for Oracle EBS and PeopleSoft in addition to Siebel CRM. In the current situation, all existing customers have the single option of migrating to an ODI version of OBIA or the more challenging option of just moving to another BI product. The challenges with ODI based OBIA solution is that Oracle has not given any migration tool, which makes it more of a re-implementation than just a migration/upgrade.
Samkit has built processes and tools that help reduce the pain of reimplementation by 35%. Our tools of processes give customers an error-free partially automated path of reimplementation utilizing current Informatica investment and customizations.
The ODI has 3300 customers and 4000 OWB customers while INFA has 3800 power centre customers.
Oracle is enhancing its ETL business quicker than Informatica. The ODI has 35% YoY ETL growth while INFA has 7% YoY ETL growth.
ODI has 800 new ETL customers while Informatica has 400 new ETL customers.
Oracle has 40 products inserted in ODI while oracle inserted only 2 products in INFA.
Oracle uses 1.5TB per hr on a 24cr extra data while informatics use 750GB per hr on a 64 crore.
If you have already invested in informatics but still facing some issues then you can adopt ODI. here we have listed some issues may be relevant to you so ODI can help you to resolve them.
The higher cost of ownership
Low internal rate of return
Inefficient upgrade management resulting in low productivity.
Due to non-value-added activities, resources of company misallocate
Delay in the project because of human errors and wrong alignment.
If you are facing above listed issues then ODI is the best option for you. ODI and it's business analytics solutions become a stop shop for all customer requirements. It caters for its oracle applications, custom applications, MDM applications, Business intelligence, Activity supervision and SOA platforms. Oracle has become the 2019 Gartner Peer Insights Customer Choice for Data Integration tools. They won it because they directly received feedback from the customers.
ODI caters world-class solutions for building, managing, and deploying real-time data into a big picture. It merges all the components of data integration from live data transmission, transformation, adjustment, quality of data, management of data, to data services. It basically ensures the information is precise, timely and reliable to all the systems. Customers using oracle data integration experienced robust cost-saving and efficiency. ODI is offering insightful data on time.
ODI is comfortable with all the scenarios whenever you need to combine data from various technologies, systems and environments. ODI has great loading and transformation performance which can do any difficult task in a timely manner. All the oracle applications can cater to accurate timely services such as Hyperion Planning, Hyperion Essbase, Hyperion financial, and so on. It gives easy files management on different operating systems and you can operate multilingual to read and write data.
BI Apps Upgrade
Roadmap
Cost Savings
Features & Capabilities
One-stop Shop
Better hardware leverage
Scalability
Optimal Performance
Fast & Efficient
How to migrate from Informatica to ODI?
Previously the informatics used to do its data integration in three separate steps such as mappings, mapplets and transformations. While oracle configured all the reads, converts Informatica mappings, workflows, mapplets, to ODI  load plans, selections, packages and interfaces. Oracle basically reduces the manual effort involved in migration with its ODI.
Customer Value Proposition
Automated conversion up to 35%.
Reduced Development time up to 50%.
Cost savings of up to 50%.
Productivity gains up to 5x.
We have discussed what is ODI and informatics, their difference, their values and so on. Oracle is the biggest organization for data integration and management. We hope you find the article useful and informative.