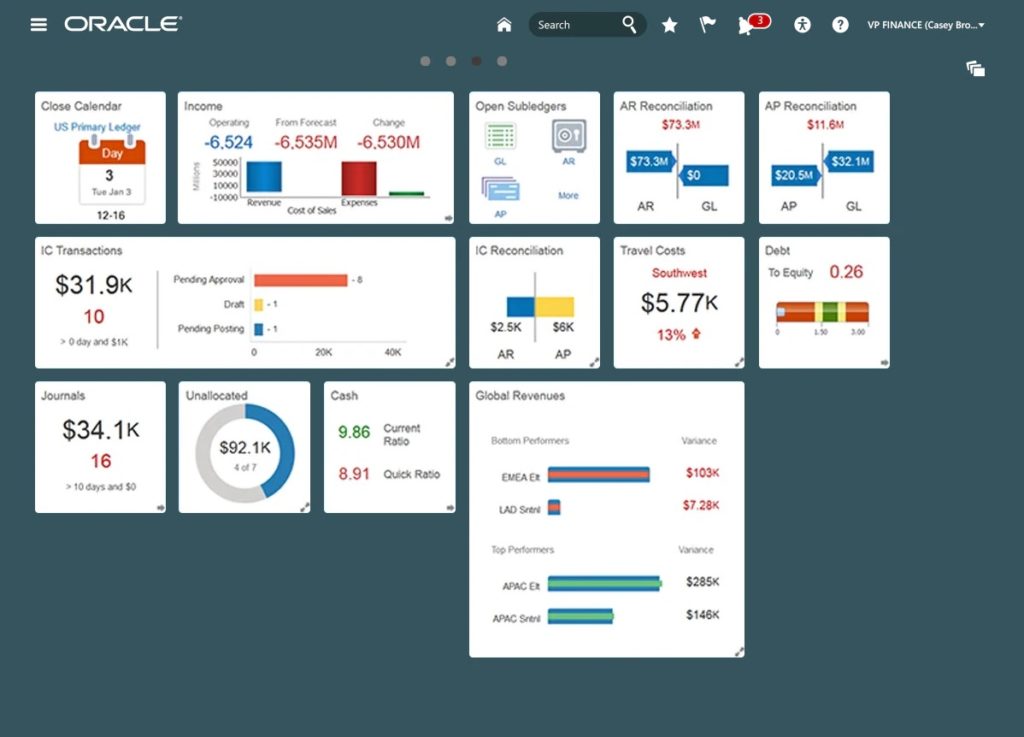 Oracle Financials Cloud offers a broad suite of modules and capabilities designed to empower modern finance and deliver customer success with streamlined processes, increased productivity and improved business decisions. Oracle Financials Cloud is a complete, modern suite delivering continuous innovation in key technologies such as mobile, social and analytics deployed in the cloud to achieve more, faster, and with less resources.
Modern, Intuitive User Experience
Users have access to many sources of information in the enterprise. Oracle Financials Cloud harnesses this information coming from different sources (BI, social, transactions, etc) and delivers it in an efficient, timely and engaging way.
Role-based dashboards use infolets to present information in consumable chunks so that it becomes simpler for users to get the most important information they need right away. Infolets display summary information for a range of KPIs based on the status of transactions and processes, so the user can glance at these for a rapid overview of key financial data, flip for more information, then choose to drill further for an expanded level of detail about these metrics.
Contextual infotiles are embedded into work areas to proactively monitor processes, track the status of transactions and draw attention to issues and exceptions that may require the user's response, with the relevant transactions displayed in the page so that action can be taken immediately. Single click processes such as complete, approve, release hold, and so on, make users more productive when performing simple tasks.
Broad, Complete, Integrated Suite
Oracle Financials Cloud is based on a robust, global architecture that includes tax, payments and accounting engines to meet a broad range of global business needs, and enabling customers to configure these features to meet their individual country or business requirements. It includes complete internationalization support, including number, date, names, and addresses formatting and is translated into 23 languages. The application includes scalable enterprise structures for large enterprises to model their business, supporting unlimited accounting representations and statutory reporting needs, all in a single global solution using standard preferences and setup, allowing global customers to adapt their software for a specific region or country without requiring multiple implementations of the product. Oracle Financials Cloud also provides country specific localizations such as payment formats and tax reports to meet local business requirements. Control over Costs and Visibility into Commitments
Budgetary Control and Encumbrance Accounting allows organizations to control spending at any budget level or time interval.
Entered transactions can display the status of budget checks and reservations online. Intuitive error messages and warnings enable users to quickly identify and resolve exceptions..The Budget Monitor infolets allow budget managers to monitor consumption rates and review accounts that are close to over spending their budget. Dynamic drilldown enables budget managers to quickly view the transactions that contribute to the budgetary control and expenditure balances. Robust reporting and analysis delivers continuous insight directly to business managers and decision makers. Budget managers can view budget, commitment, obligation, expenditure, and funds available balances and supporting transactions in a single view.
Oracle Financials Cloud is a complete, comprehensive, and integrated suite of applications built on open standards using a service-oriented architecture and a common financial platform. Integrations with legacy systems, third party solutions and Cloud Marketplace offerings are all available for flexible, extensible financial applications. External Data Integration Services for Oracle Cloud create the infrastructure and services for integration with external data and systems. This integration supports Application Development Framework (ADF) Services, web services provided in Oracle Enterprise Repository, ADF Desktop Integration (ADFdi) for spreadsheet-based imports, and file-based data imports that allow you to import and validate high volumes of data from legacy or third-party applications.
Self-Service Reporting and Analysis
The Financial Reporting Center provides a single location to securely distribute and access all standard and custom reports including those based on BI Publisher, Oracle Transactional Business Intelligence, Hyperion Financial Reporting, General Ledger Sunburst, and BI Mobile App Designer. Financial Reporting Center gives simple, accessible reporting and analytics based on real-time accounting information, complete with drilldowns to live transactions.
Oracle Financials Cloud uses a unique reporting platform that is built on Oracle Essbase, a multi-dimensional data model embedded within General Ledger. Summarized balances are maintained in real-time making reports, online queries and multi-dimensional analysis extremely fast. This architecture allows for pivot and drilldowns to any level as well as unlimited hierarchies for comparison and roll up. Smart View is also available to perform connected and secure multi-dimensional analysis in Excel.
Account Monitor infolets automatically monitor changes in account balances based on user-defined thresholds. Comparisons show results for the current period and a target or baseline, such as budget or results from a prior period, as well as the percentage change to assess whether the variance is favorable or unfavorable. For additional insight, users can quickly access an expanded view; to investigate the root cause of the exception, users can drill down through multiple levels of hierarchies and summarized balances to the underlying transactions.