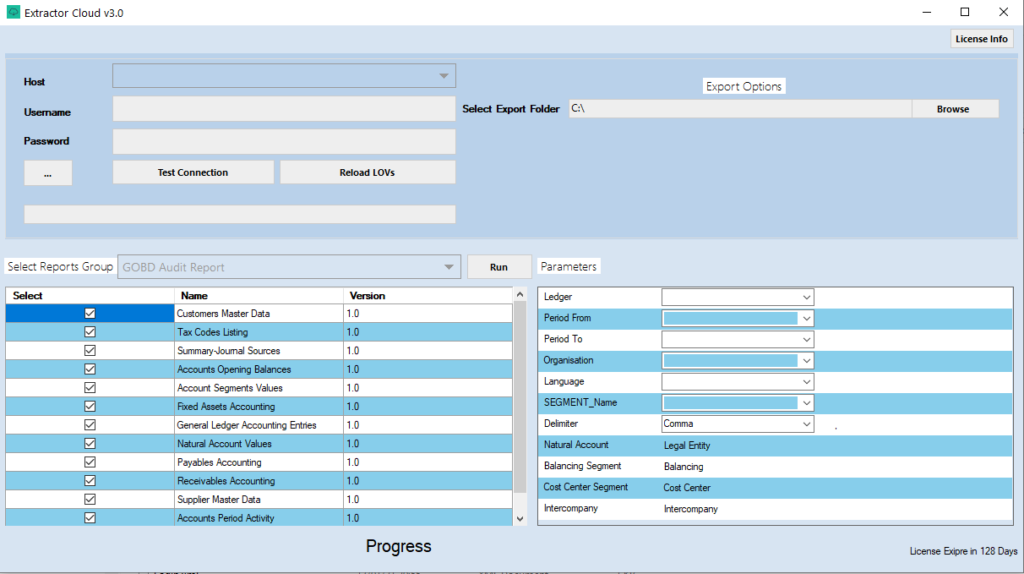 Certified GoBD-Audit Reports with Oracle Fusion Financials Cloud
12.02.2021
Samkit Infosystems has been granted the Audicon GmbH certification for its Extractor Cloud App. The Audicon certification confirms the compliance, safety and due diligence undertaken by Samkit Infosystems Ltd for the functionality of its Extractor Cloud App. The desktop tool developed by Samkit Infosystems can connect seamlessly with Oracle Fusion Cloud and generate any Group of reports, including GoBD.
Besides the Extractor Cloud being able to extract data which is correct both technically and in content too, it can easily be set-up on a client PC. This ensures total security of data, as the data is extracted and stored at the client end, avoiding any security breach.
The Samkit Extractor Cloud App is able to pull data and share reports from the Oracle ERP Cloud using webservices. It is a ready to plug-in app with no additional configuration required and has a simple user interface.
As part of the process, mandatory requirements for GoBD formats are followed and monitored for upgrades too. A provision to update clients on future updates has been built to achieve total compliance. This compliance ensures proper maintaining and storing of tax-related electronic data, which is requested by the external audit teams.
Samkit Infosystems Limited has been a leading global IT consulting company based in London with a focus on providing Oracle Fusion ERP implementation services across the globe. It already supports leading companies for implementation of Oracle ERP cloud services, from requirement gathering to business process designing, configuration, data migration, training, user acceptance testing and support.
The extensive consulting & implementation experience of Oracle Fusion ERP gives us an edge in Oracle ERP Cloud and E-Business Suite services.